Ruangguru Closes Series B Financing; Aims to Strengthen its Position as a Market Leader in Education Tech in Indonesia
Jakarta, 4 July 2017. Ruangguru has just announced the completion of a new round of series B financing, which was led by UOB Venture Management, the private equity arm of Singapore-headquartered United Overseas Bank Limited.
With this round of Series B investment, UOB Venture Management has joined Venturra Capital and East Ventures as venture capital backers of Ruangguru.
Mr Seah Kian Wee, Managing Director and CEO, UOB Venture Management, said, "Ruangguru is an appealing investment due to the passion and capabilities of its founders, scalability of the business, as well as the positive impact it can have on students' learning experience. We believe that Ruangguru can be a game changer given the large-scale adoption of its learning management system and the potential of its products for the Indonesian education sector."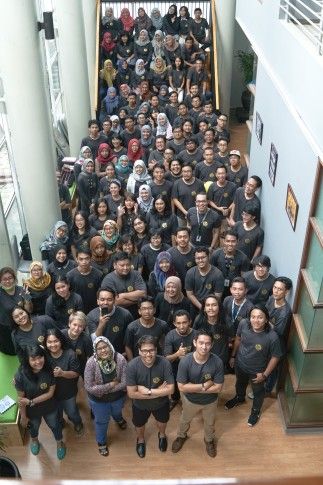 In the past year, Ruangguru secured partnerships with 27 (out of 34) provincial governments and more than 300 city and regency governments in Indonesia. These partnerships enable students in these areas to access Ruangguru's Learning Management System, which includes high quality question banks, classroom management and exam simulations.
With the funds raised, Ruangguru will strengthen its team in the areas of educational content, technology, marketing and operations, and deepen its product adoption in Indonesia. The company will also continue to explore ways to achieve personalized education services through machine learning, and to utilize the massive wealth of academic data that it possesses.
"East Ventures welcomes all new investors and looking forward for Ruangguru's next innovation. We continue our commitment to Ruangguru and double down our exposure," Willson Cuaca, the managing partner of East Ventures remarked.
"We continue to be very excited about and committed to Ruangguru's endeavors in transforming Indonesia's education. We are confident that this partnership with UOB Venture Management and other strategic investors will bring the company to new heights," said Rudy Ramawy, partner of Venturra Capital.
Since its founding in 2014 by Belva Devara and Iman Usman, who were recently named by Forbes in its 30 under 30 list for consumer technology in Asia, Ruangguru has grown into a leading market player in education technology in Indonesia. Ruangguru currently counts 3 million users nationally ranging from students in grade 1 to 12, across their wide range of educational services. Ruangguru is currently present in almost every K12 education vertical, playing its role in supporting both the formal schooling system and providing high quality supplemental education outside of school.
Supporting the formal schooling system
Ruangguru's Learning Management System is key to its efforts in supporting the formal schooling system in Indonesia. The Learning Management System also provides governments with dashboards and insights to enable data-driven policymaking in a way that was not possible before. As a local player, Ruangguru is committed as a partner to regional governments to enable Indonesian students to use technology to "leapfrog" their academic outcomes.
"Working with ambitious regional governments has been a continual source of inspiration for us to continually think about what impact we can have on academic success of students when all stakeholders cooperate. Strengthening our partnerships with governments is also key for us to scale our operations nationwide," said Iman Usman, Co-founder and Chief Product Officer of Ruangguru.
Targets to provide best-in-class supplemental education at affordable prices
To complement the formal K12 education, Ruangguru offers a range of supplemental education services outside of school, including RuangBelajar, an integrated learning video subscription service, RuangLes, a private tutoring marketplace, RuangLesOnline, and an on-demand tutoring service, and Ruangguru Digital Bootcamp, a social learning education solution for group-based distance learning. Leveraging on content access through mobile devices, Ruangguru aims to deliver world-class tech-enabled educational content to students at a more affordable cost than conventional methods of learning.
Interesting to highlight among the strategic partnerships forged during the last year is its partnership with LINE, where Ruangguru and LINE co-launched LINE Academy, now boasting close to 3.2 million members within 6 months of launch. Within the last three months, over 1.5 million students benefited through taking simulated online national examinations (Ujian Nasional) on Ruangguru through LINE Academy. Ruangguru and LINE are committed to widen its services to reach more audience in the coming year.
"We believe that technology is key for us to both leapfrog our national educational attainment, and to ensure that all kids, no matter where they are and their economic status, have access to the same high quality educational content. We are very proud of what the team has achieved in the past year, and continue to be excited that we will likely be the main catalyst to the transformation of education in the country with technology," said Belva Devara, Co-founder and CEO of Ruangguru.
—–
About Ruangguru.com
Established in 2014, Ruangguru is a technology company that focuses on providing services across a wide range of education verticals. Ruangguru offers its own Learning Management System targeted at elementary, middle, and high school students in Indonesia. Ruangguru also offers learning video subscriptions, private tutoring marketplace, on-demand in-app tutoring services, online exam simulations, and others.To know more, download Ruangguru mobile-app on Play Store, App Store or visit Ruangguru.com.
About UOB Venture Management Pte Ltd
UOB Venture Management (UOBVM) is the private equity arm of United Overseas Bank Limited (UOB). UOBVM manages third party private equity funds in excess of S$1billion and focuses on growth companies in ASEAN and China. UOBVM is committed to investing responsibly and has incorporated environmental, social and governance (ESG) assessments in its investment valuation process since 2004.
For release in Bahasa Indonesia click here (DR)